Halloween is not just a children's holiday!
Serve up some spooky fun this October 31st with these Halloween Cocktails!
BEETLEJUICE DRINK
It tastes like the green apple Jolly rancher candies.  The drink has a nice yummy mix of sweet and sour.
A tall glass filled with a sweet and sour green apple drink.
Serves: 1
INGREDIENTS
½ oz. Vodka
½ oz. Melon Liqueur
½ oz. Blue Curacao
½ oz. Raspberry Liqueur
½ oz. Cranberry Juice
Sweet n Sour Mix
INSTRUCTIONS
Take a tall glass and fill it full of ice.
Pour the vodka into the glass.
Fill the glass ¾ full with Sweet n Sour Mix.
Pour in the rest of the ingredients one at a time.
Black Widow Cocktail
A spine-chilling combination of cranberry juice, strawberry vodka, white rum and triple sec which is sure to leave you, well, a little worse for wear if you drink too many of them.
Yield: 1 serving
Ingredients
1             1/2oz Strawberry flavored vodka
2             1/2oz white rum
3             1/2oz triple sec
4             cranberry juice
5             1 liquorice lace
Recipe
Pour the strawberry vodka, white rum and triple sec into a glass.
Top with cranberry juice and stir.
Fold a liquorice lace in half three times and cut at each end, so you have eight 'legs'.
Use the legs to decorate the glass like a spider and serve.
A sweet treat perfect for Halloween… Candy Corn Cocktail
Candy Corn Cocktail Recipe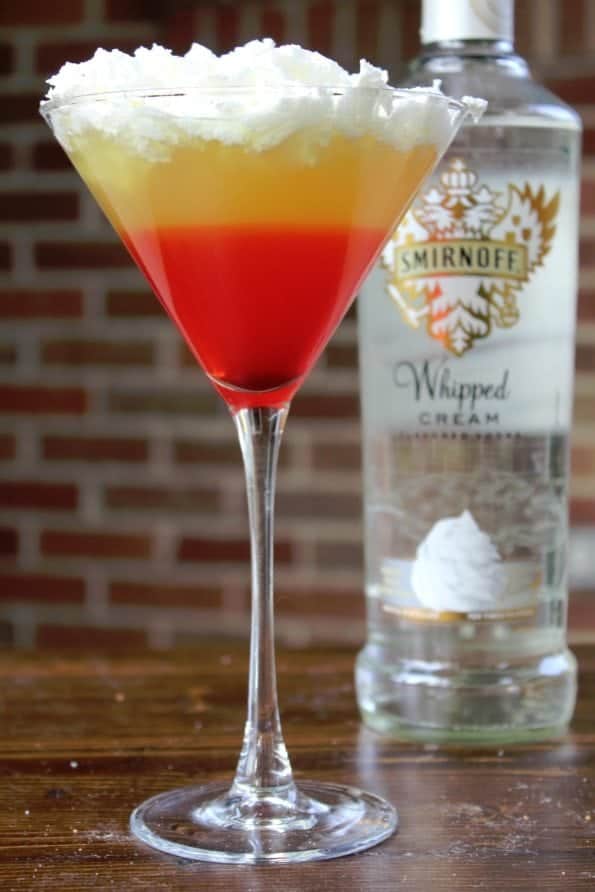 Ingredients
1 1/2 oz Whipped Cream Vodka
3 oz Sour Mix
2 oz Pineapple Juice
1/2 oz Grenadine
Whipped cream for topping
Directions
1. Combine Whipped Cream Vodka, Sour Mix and Pineapple Juice in a shaker with ice, shake away
2. Pour mix into a martini glass
3. Slowly pour Grenadine into mix so it settles at the bottom
4. Top with whip cream